Lipid Soluble Vitamin C – Tetrahexyldecyl Ascorbate
The Best Topical Vitamin C For Your Skin
I have written a fair amount on Vitamin C and its numerous benefits for the skin as can be seen with the following blog articles: Vitamin C Serum, Vitamin C Quick Reference Guide, Vitamin C in Skin Care Products and Why Use Vitamin C in Your Skin Regime. All of these articles can be found at: Vitamins For The Skin.
So the question is how many more articles can we write on Vitamin C and the answer very simply is not many more. All its benefits, uses and recommended products are mentioned in the above blog articles but I thought considering we are running a Dermaquest C Infusion promotion this month we should visit the unique ingredient that is being used in the C Infusion Serum: TETRAHEXYLDECYL ASCORBATE.
What Is Tetrahexyldecyl Ascorbate?
"Tetrahexyldecyl ascorbate is a form of vitamin C that's been modified to be more lipid soluble." Dr Alek Nikolic
This modification allows it to better penetrate the skin. The problem with most topical forms of vitamin C is they're water soluble and can't make it through the lipid-rich skin barrier to reach the dermis of skin where they could have maximal benefits. Tetrahexyldecyl ascorbate is able to successfully penetrate the epidermis and move to the layer underneath called the dermis. It's in the dermis that collagen, a protein that gives skin its youthful firmness and ability to resist wrinkles, is made.
In my opinion and looking at new study results this should be our go to topical Vitamin C ingredient.
"The best, most stable, non-acidic form of Vitamin C is Tetrahexyldecyl Ascorbate (abbreviated THDA or THD Ascorbate)." Dr Alek Nikolic
Tetrahexyldecyl Ascorbate Summary of Skin Effects:
An oil-soluble form of Vitamin C that can penetrate the lipid bilayer
Retained in the epidermis and dermis (whereas Ascorbic Acid passes through), forming a reservoir of Vitamin C
Its antioxidant action is 80 times longer than Ascorbic Acid because it is a slower free radical scavenger
It has a two-year stability
Common Forms of Vitamin C:
Ascorbic Acid (L-Ascorbic Acid)
Ascorbyl Palmitate
Sodium Ascorbate
Sodium Ascorbyl Phosphate
Magnesium Ascorbyl Phosphate (MAP)
Tetrahexyldecyl Ascorbate (THDA) (also denoted Ascorbyl Tetraisopalmitate)
Ascorbyl Glucoside
Ascorbyl Glucosamine
Ascorbyl Methylsilanol Pectinate
I hope you found the article on Tetrahexyldecyl Ascorbate interesting and valuable and that it gave you a new insight in the different types of vitamin C that are available and their specific strengths and weaknesses.
Kind regards
Dr Alek Nikolic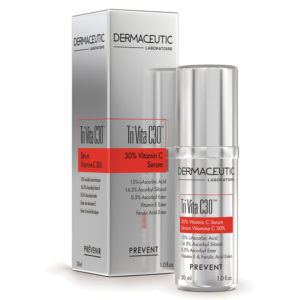 R1,350.00
Earn 540 SkinMiles. 

References:
An Open Label Clinical Trial to Evaluate the Efficacy and Tolerance of a Retinol and Vitamin C Facial Regimen in Women With Mild-to-Moderate Hyperpigmentation and Photodamaged Facial Skin

. Herndon JH Jr, Jiang LI, Kononov T, Fox T. J Drugs Dermatol. 2016 Apr;15(4):476-82.
An Open Label Clinical Trial of a Multi-Ingredient Anti-Aging Moisturizer Designed to Improve the Appearance of Facial Skin. Herndon JH Jr, Jiang L, Kononov T, Fox T. J Drugs Dermatol. 2015 Jul;14(7):699-704.
Evaluation of a hydroquinone-free skin brightening product using in vitro inhibition of melanogenesis and clinical reduction of ultraviolet-induced hyperpigmentation. Makino ET, Mehta RC, Banga A, Jain P, Sigler ML, Sonti S. J Drugs Dermatol. 2013 Mar;12(3):s16-20.

Double-blind, half-face study comparing topical vitamin C and vehicle for rejuvenation of photodamage

. Fitzpatrick RE, Rostan EF. Dermatol Surg. 2002 Mar;28(3):231-6.