How To Pick the Best Skin Care Products For You
Find the Correct Skin Care Products for Your Age, Skin Type and Skin Concern
One of the questions my patients ask fairly often is:

And I agree:
"It can be confusing considering the large number of skin care brands available on the market today" Dr Alek Nikolic
This is a helpful guide in finding how to pick the best skin care products, ingredients and brand for your skin concern, age and skin type
If we do a Google search for 'skin care products' or 'best skin care product' or best anti-ageing skin care' or 'how to choose skincare products' etc. one will find millions of hits for each category. Furthermore according to Google almost half of us have no idea which ingredient or brand we should choose when looking for skincare products
Very simply the confusion comes from numerous claims by skincare brands so what do we believe and what do we leave behind and it also comes from consumers not fully understanding their specific skin type and skin concerns
Dr Alek Nikolic's Step By Step Approach:

Step 1: Determine Your Skin Type
Skin care is firstly determined by our skin types and this should be the very first thing we get 100% correct as all the rest will follow on this important step. Dr Alek Nikolic
Don't worry it is a lot simpler than you think and you do not need a professional skin care therapist, or a cosmetic doctor, or a dermatologist to find out this bit of vital information
Step 1: Dr Alek Nikolic's Skin Type Test
There are basically five skin types: normal, dry, oily, combination and sensitive
To determine your type, use a simple test with a clean facial tissue (or paper) to wipe your face in the morning, when you have just woken up:
.
Step 2: Choose Your Skin Concerns
There are a number of skin concerns you may have including pigmentation, acne, fine lines and wrinkles, textured or rough skin, excessive pores, etc. and luckily for us for each of these concerns skin care brands have included specific ingredients to treat them and to suite our specific skin type
We have tried to make the choice of a skincare product for a specific skin condition as simple and as easy as possible by adding a very effective filter system on SkinMiles.com Dr Alek Nikolic
The product filter system allows you to enter your skin type (such as combination skin) and once the page has loaded you can choose a specific skin concern (such as pigmentation). This will display all the products that are available for these two categories: combination skin with pigmentation: see here. To make it even easier our filter system also allows you to choose a specific product type for your skin categories such as cleansers, targeted treatments, moisturisers, sunscreens, etc
Here is an example of what the filter system displays cleansers for combination skin with pigmentation: Recommended Products
If however you would like to do your own research and not rely on technology I have compiled informative skin concern references that will help you in deciding which product is best for you. So choose from the list below your main skin concerns and check the helpful guide to steer you in the right direction:
Step 3: Choose Your Skin Care Regime
This simple, step-by-step routine covers the basic types of products everyone should use and the order in which to use them every day. These steps apply regardless of your skin type. I have divided the skin care regime into two types: Primary or Basic skincare regime and what I call the Next Step or Advanced skincare regime. The Primary regime is for those that are younger or do not want to spend too much time or effort with their skincare plan and the Next Step regime are for those who would like to maximise the benefits that topical skincare products can achieve
Primary Routine: MORNING 
FOR ALL SKIN TYPES
Primary Routine: EVENING
Learn why exfoliation is so important and which exfoliant to use
'Next Step' Routine
The Next Step Routine is for those people concerned with specifically with signs of aging, sensitivity, pigmentation or breakouts. It includes targeted treatments that build on the footing of the Primary Routine to treat specific skincare concerns such as acne, red marks, wrinkles, sun damage, brown spots, or rosacea
If your skin is dry, or oily, or a combination type then following the primary skin care regime is adequate. If however you have dry skin with wrinkles or oily skin with pigmentation and/or wrinkles then one will achieve better results by adding additional ingredients as recommended in the Next Step Routine
The Next Step Routine includes a gentle toner and a targeted treatment to specifically tackle extra skin concerns to achieve best results from your skin care regime
Next Step Routine: MORNING 
Next Step Routine: EVENING
Price:
So in a nutshell a product does not have to be expensive to be effective and vice versa Dr Alek Nikolic
Yes it is true that premium ingredients in a skin care product do not come cheap but we pride ourselves in providing the very best ingredients backed by intensive scientific research and evidence based treatment results in all of our skin care products and to suit every budget.
Final Words:
"Ultimately the best approach to choosing the correct skin care products with ingredients specific for your skin type and skin concern will be through a face to face skin consultation either with a professional skin therapist, a cosmetic medical practitioner or a dermatologist. We have created something almost as good with a free online skin consultation called Face2Face that allows you to answer some basic questions and upload a photo of your skin that comes directly to Dr Alek Nikolic's personal email. From this he can give you skincare product recommendations to suite your skin needs so give it a try" Samantha Nikolic
The three simple steps I have listed above if followed and with the help of our skin care product filter system or with the Face2Face Online Skin Consultation will allow anyone to get the best skin care advice and skincare products on SkinMiles.com
I hope the above has been helpful and will limit the confusion that exists when choosing the right product for you and your skin.
Kind regards
Sam Nikolic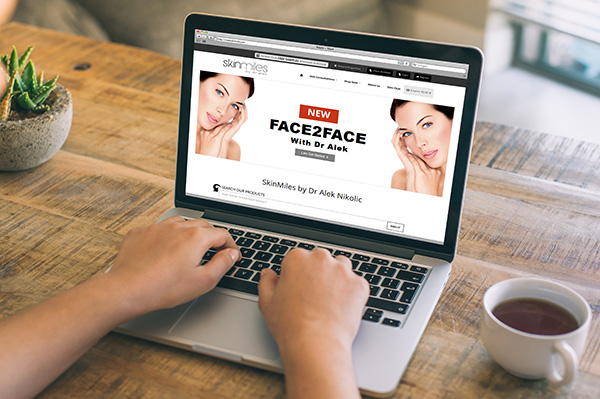 Need More Info?
Further Reading & Recommended In Depth Articles:
For More Skincare Advice:
Product Recommendations: