A Novel Ingredient N-Acetyl Glucosamine
Ingredient Focus: N-Acetyl Glucosamine by Dr Alek Nikolic
A review of new clinical and safety data to support the use of N-acetylglucosamine for anti-aging skin care
Introduction:
We have decided to focus on our current special promotion pack from NeoStrata (NeoStrata Company, Inc. located in Princeton, NJ) which consists of dermatology developed skin care collections recommended and highly regarded by skin care experts around the world. We are proud to partner with NeoStrata and supply their skin care products at SkinMiles.
As with any clinical study things can get technical so I have decided to list in point form the most important features and benefits of this ingredient so that it is easier for all of us to acquire the most important facts. So what is N-Acetyl Glucosamine, where do we find it, how does it benefit our skins and what are the exact changes we will see when using this ingredient? I will answer all of these questions in the article below.
Why Use N-Acetyl Glucosamine?
The use of Alphahydroxy Acids (AHAs) has developed into a major ingredient technology for anti-aging and for other therapeutic skincare treatments such as chemical peels over the past decade.
"Polyhydroxy Acids (PHAs) such as N-Acetyl Glucosamine has evolved from AHA technology offering similar anti-aging benefits as AHAs but with added benefits for sensitive skin and as such is a great ingredient for anyone trying to achieve healthier, smoother and plumper skin " Dr Alek Nikolic
N-Acetyl Glucosamine Proven Benefits: 
A reduced sensory irritation
A reduced discomfort
Increased skin plumping
Increased skin smoothing effects
Increased fine lines and wrinkle reduction
"This is a great ingredient to add to one's skin care regime especially through the winter months where most of us experience some form of drying and are in need of extra moisturisation, plumping and improved health of our skin cells." Dr Alek Nikolic
Recent trends in skincare have embraced 'non-acid' technology, while still demanding the beneficial effects on skin that have been achieved with the use of AHAs. One new approach in the development of novel ingredient technology utilizes sugar (saccharide) derivatives and naturally occurring amino sugar derivatives to provide anti-aging effects to skin. N-acetylglucosamine is one new compound that is being investigated for use in skin care.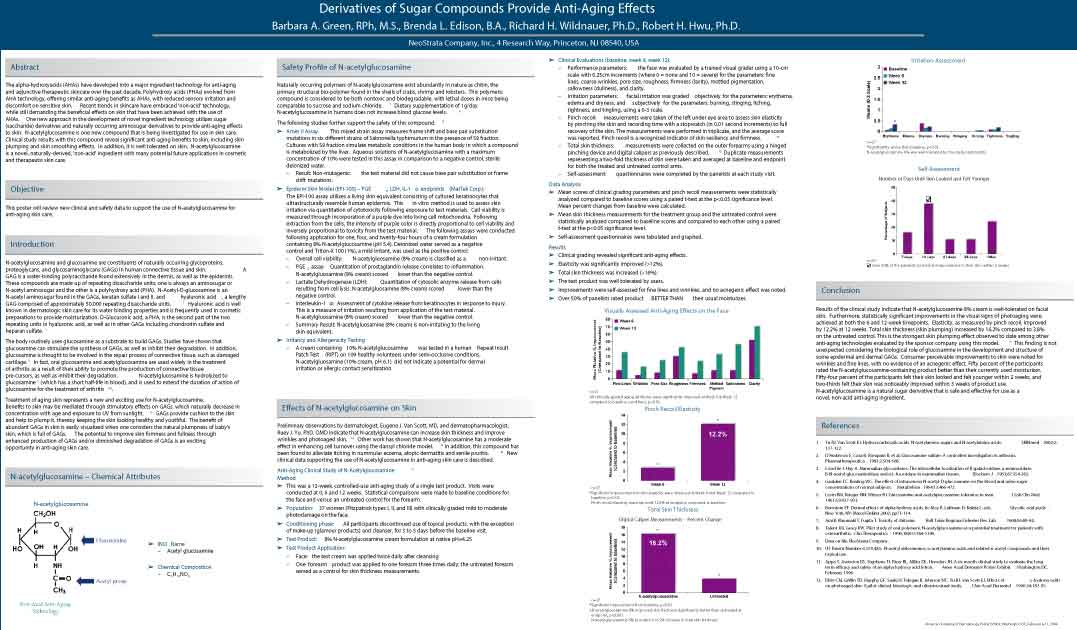 "Clinical study results with this compound reveal significant anti-aging benefits to skin, including skin plumping and skin smoothing effects. In addition, it is well tolerated on skin." Dr Alek Nikolic
N-acetylglucosamine is a novel, naturally-derived, 'non-acid' ingredient with many potential future applications in cosmetic and therapeutic skin care.
See the promotion on N-Acetyl Glucosamine: NEOSTRATA ESSENTIALS PACK FOR ANTI-AGEING AND HYDRATING
My View:
"If your skin reacts to 'acids' (including both or either alpha hydroxy and beta hydroxy acids) then this ingredient should be your choice to achieve skin anti-ageing effects" Dr Alek Nikolic
I hope you found the above article focused on the ingredient N-Acetyl Glucosamine helpful and beneficial and please feel free to send me any questions or concerns you may have with your skin care regime or skin concerns.
Kind regards
Dr Alek Nikolic
For The Academics Out There:
"I am aware that some of us need a more in depth and academic approach so this part is especially for you" Dr Alek Nikolic
Need More Info?
Further Reading & Recommended In Depth Articles:

For More Skincare Advice:
See Our Full Treatment Product List From NeoStrata: please click here
Dr Alek Nikolic's Top NeoStrata Picks:
The above article was referenced from a study published by NeoStrata Company, Inc.
Derivatives of Sugar Compounds Provide Anti-Aging Effects.
Barbara A. Green, RPh, M.S., Brenda L. Edison, B.A., Richard H. Wildnauer, Ph.D., Robert H. Hwu, Ph.D. NeoStrata Company, Inc., 4 Research Way, Princeton, NJ 08540, USA